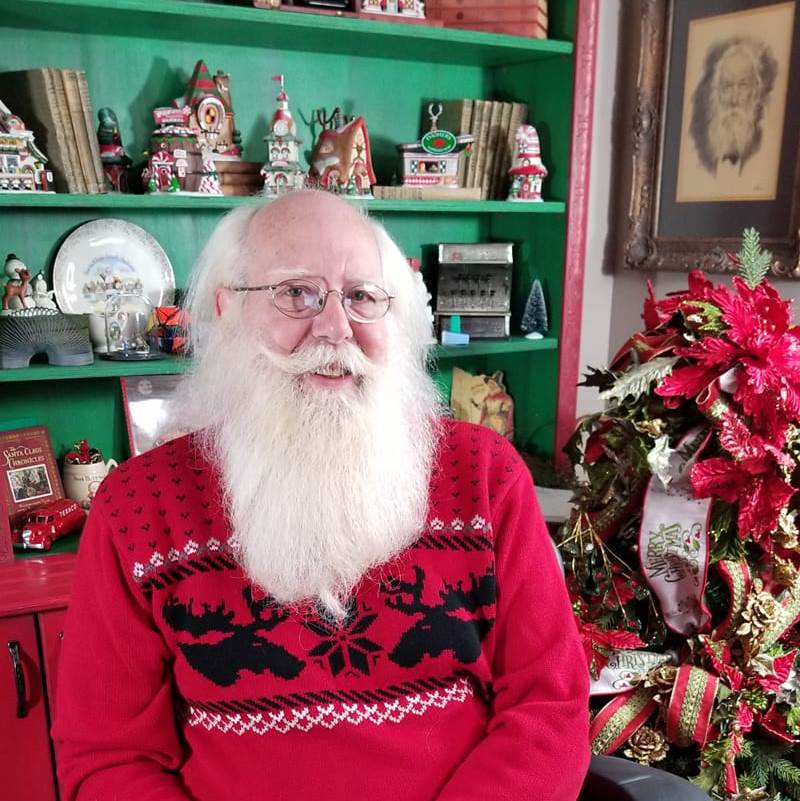 After 10 years of joy bringing Santa to families all over the United States, followed by 2 horrible years of social distancing and cancelling all in-person visits, my wife and I have come to the conclusion that now is the time to permanently cease the concept of in-person visits for this Santa Claus.
Early Santa Days
To be honest, my journey of portraying the big guy in the red suit has not progressed as expected. You see, I always pictured Santa as that magical person sitting in the giant chair in the middle of the wonderous set at the mall. I always expected to see posts ten to twenty years from now of families showing off their children's growth via pictures with Santa, and I would be that Santa in every picture, evolving in my portrayal along side their changing looks and behavior.
That path actually started off just as planned. My first year, I had too much respect for the position of Santa, and not wanting to be in the position to say anything "wrong' to a child, I did nothing but pet pictures. The following year, though I was asked repeatedly to join the mall photography companies, I concentrated on my Santa education and building some experience through home visits, corporate events, and some non-profits. I felt I was ready for "the big chair" by my third season and accepted a position at a mall in St. Louis, one to be near my only grandchild and, two, it was a shared seat, allowing me to work every-other day to make sure this was what I truly wanted to do. It was.
The next year, I was moved to an affluent mall in Chicago, where they wanted their Santa to be 'media-ready'. Though this mall had been around for a several decades, they had never had a Santa before. As part of a total renovation, they developed accommodations for a Santa set and wanted a 'high-profile' Santa. At the end of that year, I was offered a long-term contract to be that mall's Santa – exactly what I was hoping for.
Unfortunately, the mall Santa scene changed the following years, beginning with the very next one. As the number of shoppers started to shrink, the malls developed new schemes to get those shoppers into their malls during the holiday season. This was the beginning of appointments to see Santa in an effort to eliminate the long queue lines. This proved to be a popular move at my mall as they sold out before the season even started. To make room for more visits, they decided to lengthen the day and eliminate breaks. That meant we had to have 2 Santas each day, and eventually 3. Now, even though these families were visiting Santa at the same mall several years running, they had no idea which Santa was going to be in their pictures. It took quite a bit of the joy out of my sails, so to speak. Not only that, each year they moved the start date up by a week to the point I had to be on set the first Friday after Halloween. Leaving my wife at home for the season and spending 8 weeks away finally caused me to ask to be released from my contract there.
New Opportunities
The following year presented me with a whole new set of challenges. When I was working at the mall, I knew where I was going to ne every day of the season and a paycheck was going to magically appear in my checking account every two weeks. Now, I had to market myself, deal with contracts, schedule around Atlanta traffic as well as working around requests from Alabama to South Carolina, Tennessee to southern Georgia. While I love performing as Santa, I truly disliked the "business" of being Santa.
I did, however, work as much as I wanted to, booking gigs as varied as photography studios, commercial work, corporate events, government events, local businesses, as well as countless home visits and neighborhood parties. The great thing was, the majority of my clients rebooked me year after year so I had little slack in my schedule, at least making the marketing aspect much easier.
Covid-19
By the time 2020 rolled around, my schedule was completely booked with a few planned openings late in the season for last minute fill-in requests. We all know what happened when COVID-19 was identified and by September, too young at 64 to get the vaccine, I cancelled all in-person visits for the season. I disappointed too many people that year as well as disappointing myself having built the clientele that had be annually as 'their' Santa. There were opportunities that year but I knew I wouldn't be happy interacting from an enclosed plexiglass cage or inside a clear ornament just for photo-ops. For me, interacting with the children (and the adults) is everything. I did dip my toe in the virtual visit world and got very excited about this new type of interaction with the children. Everyone had gotten used to using Zoom for school, so there was little imagination or training needed to know that children could just as easily interact with Santa at the North Pole.
I got both of my vaccines in 2021 and was ready to get out there and be Santa once, again. The Covid numbers were looking good by summer and I even did a Christmas in July event that got some great coverage n the local paper. I was able to fill my season with almost everyone from 2019 that I had let down in 2020. As the restrictions were relaxed, however, the numbers started going back up and variants started appearing. By September, it became obvious to me that I couldn't endanger my health or the health of my clients by doing in-person visits once again. For a second year in a row, I had to cancel on my entire client list. It was one of the most heart breaking decisions I have had to make. I also chose not to do virtual visits to free my entire schedule to spend with family and enjoy the sights and sounds of Christmas solely as an observer and not an active participant.
Looking Ahead to 2022
I usually evaluate each season in January and make plans for improvements and a strategy for that upcoming year. However, I've had ample opportunity to assess where I want to take my Santa portrayal in the future. There were topics that kept coming up:
I still dislike the "business" of being Santa. It is difficult, at best, to automate the scheduling aspect, especially considering Atlanta's traffic. I also found myself at the end of the season with a stack of checks waiting to be deposited because I never seemed to "get around to it". Though there are certainly products to automate much of the Backoffice work, there is really nothing that can automate it all.
Not to harp on it, but I find I'm less tolerant of Atlanta's traffic and it only gets worse during the Christmas season. It only adds to the stress of being at my very best at every visit which is what the client is paying for.
My wife and I are now retired and even though I was born in Atlanta and have lived 55 of my 65 years here, I am yearning to discover my final home to live out my retirement years. I'm sure it won't be the greater Atlanta area.
I take the threat of COVID-19 and the variants seriously. As are most Santas, I am high risk of a breakthrough infection because of my age and weight. I am not willing to jeopardize my health for my profession or even avocation.
Yet, I still want to be Santa for another five to ten years.
For me, the logical choice to continue my Santa portrayal is to embrace the online visit and do it to the best of my ability. The entire Backoffice work can be completely automated, taking that worry away from me once it is set up. No in-person visits means no Atlanta traffic. I'll be able to work from home, regardless of where home happens to find me. These last two years are the only years since putting on the red suit that I haven't gotten a serious case of the flu, even though I have been diligent in getting my flu shots.
I will surely continue to miss the in-person interaction, but I know we can make the online visits even more magical than I ever could live and in-person. I have already begun work on my set and am hopeful that everyone will get a sense of interacting with Santa at the North Pole and all of the magic that comes along with it.
Introducing Chat With Santa Live
To transition from an in-person performer to an online performer requires a different marketing model. To that end, I have retained the domain ChatWithSantaLive.com as well as creating a Facebook presence at Facebook.com/chatwithsantalive. Look for both sites to be developed over the course of the next few months with a full launch some time in September 2022.